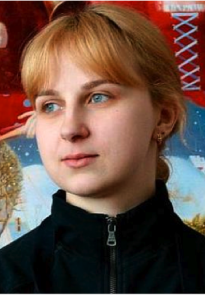 Artist Profile
Anna Berezovskaya was born in 1987 in Russia. Despite her young age, she has achieved national and international recognition. Anna currently works in Yahroma-her hometown.
At first sight Berezovskaya's paintings seem innocent and girlish, portraying dreamlike kingdoms and intriguing inhabitants. But at look closer look one can discover numerous symbols, emotions and humor, enriched by surrealistic touches. Anna started painting since the age of 5 when she occasionally was left alone at home. Art of Anna is a dream escape, however, still filled with realistic touches and leitmotifs. That is why works of Anna draw that interesting line between actuality and fantasy.
Anna Berezovskaya is an extraordinary contemporary Russian Artist whose fame is spreading around the globe in an amazing speed. Despite her young age, she has achieved national and international recognition and has been hailed by critics as one of Russia's most promising upcoming stars.

Her artworks are one of a kind and highly recognizable by her unique style and technical mastery. Each of her art piece harbours ideas and spirituality, is rich in content and has strong symbolical meaning.

Her paintings most often display what she has seen in real life and in her dreams, which sometimes is more real to her than reality. In most of her paintings, she depicts herself, her own world which is full of beautiful images with symbolic content. Anna is using her exceptional talent and professional skills to create complex, multi-figured compositions of Knights, Queens, Monarchs, and beautiful ladies following an absolutely realistic approach, yet in her own unique way, using a combination of items and places that make the whole painting look surreal, dream-like and one of a kind. Her paintings are her world which she wants to share with the viewer. Her subjects are symbolic (Knights, Queens, Monarchs), since she believes that every human deep inside is a king, or a queen, or a knight, or a princess. She refers to her style as "poetic realism". Anna varies her skills and approaches within a painting, which testifies to the diversity of her talent, combining hyper-realistic images with complex layers of lights and colours, and decorative elements. It gives the viewer a strong experience and deep appreciation of romantic-spiritual beauty.

Anna Berezovskaya has exhibited her artworks in solo and group exhibitions around the world. Her artworks are highly sought after and grace private collections of serious art collectors and art investors in Russia, USA, France, Luxemburg, Netherlands & Hong Kong.
"Maybe the question is not that of human misery or pleasure, but the short playful moments of shadow & light, and the harmony of trifles gathered today, right now in a one of a kind and unique manner".

Solo Exhibitions
| | |
| --- | --- |
| 2012 | Project by gAZE GALLERY, Berlin, Germany. |
| 2010 | Personal exhibition in Singapore, in the gallery "Red Sea" |
| 2009 | Personal exhibition in Hong Kong, Gallery "Red SQUARE" |
| September 2008 | Exhibition in Holland |
| July 2008 | Personal exhibition - Exhibition Hall Khadyka ", Moscow |
| 16 to 27 June 2008 | Exhibition in COMMERCE - INDUSTRY Dmitrov. |
| May 2008 | Personal exhibition in Seattle (USA) |
| From 21 to 25 May 2008  | Exhibition ART & DECO "New Manege, Moscow. |
| March 2008 | Exhibition in the town of Dmitrov. |
| February 2008 | Intended to make a solo exhibition in Luxemburg. |
| October-November 2007 | Intended to make a solo exhibition in October-November 2007 in Seattle (USA). |
| Since 2007 | I collaborate with Art Gallery Umbra (Seattle). |
| December 2006 | Solo exhibition in theatre of Gelikon-Opera. |
| April 2006 | Solo exhibition in Central House of Artists. |
| March 2006 | Exhibition of young artists in the town of Dmitrov. |
| 2005 | A member of association of a creative profession of Russian artists. |