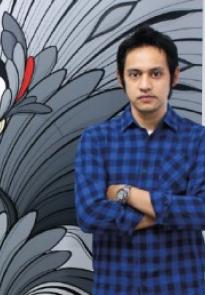 Artist Profile
Indonesian artist Arkiv has been painting, illustrating and designing cartoon like figures since 2005. Shortly after finishing his Bachelor degree in Architecture he plunged into the art world citing his love for drawing figures as his inspiration for this change of career path. Arkiv had a strong debut with his first vinyl figurine called "Arkiv Instant." After Arkiv Instant many exciting vinyl toys followed including a redesign of Mickey Mouse for Disney Asia.
Arkiv describes himself: "I'm a half animal and half dream. I'm a blend of an overweight panda and Killer whale. I eat kids and I drink bloods. I'm instantly rude and 100% dirty. I sleep longer than any creation the world has ever seen, I sleep like a dead hero and no star. I talk rubbish and my breath smells like it."
His description reflects the same silliness and complexity of his characters. Smiling cartoons flipping you the bird. Figures strangling each other. Teddy bears hanging on a rope are just some of the oddities that Arkiv paints with cheery colors and his signature curvy and graphic style.
Solo Exhibitions
| | |
| --- | --- |
| 2017 | Come to Light, Element Art Space, Singapore |
| 2016 | Luminous Landscape, RUCI Art Space, Jakarta, Indonesia |
|   | Imprinted Memories, Vinyl on Vinyl Gallery, Makati, Philippines |
| 2015 | Tracing Origin, Bazaar Art Jakarta, Jakarta, Indonesia |
|   | Solo Exhibition, Vivi Yip Art Room, Jakarta, Indonesia |
|   | Future, Present and Past, Element Art Space, Singapore |
| 2013 | Step Into My World, Vinyl On Vinyl Art Gallery, Manila, Philippines |
|   | In A Moment, Colony Art Space, Vivi Yip Art Room, Jakarta, Indonesia |
|   | Dreaming of Some Space, Galerie Lacroix, Paris, France  |
| 2012 | All In The Mind: A Journey To Wounderland Tour, Vinyl On Vinyl Gallery, Manila, Philippines |
|   | A New Amusement: A Journey to Wounderland Tour, Publika White Box Gallery, Malaysia |
|   | Arkiventures: A Journey to Wounderland Tour, FLABSLAB Gallery, Singapore |
|   | Daydreamer: A Journey to Wounderland Tour, Vivi Yip Art Room, Jakarta, Indonesia |
|   | The Aftermath: A Journey to Wounderland Tour, Toy Art Gallery, Los Angeles, USA |
| 2011 | Relics, Vinyl On Vinyl Gallery, Manila, Philippines |
|   | One or Nothing, White Canvas Gallery, Singapore |
|   | Reachable Distance, Vivi Yip Art Room, Jakarta, Indonesia |
|   | Escapist, Toy Art Gallery, Los Angeles, USA |
|   | Through The Lines, Vincent Michael Gallery, Philadelphia, USA |
| 2010 | Out of Nothing, Vinyl On Vinyl Gallery, Manila, Philippines |
|   | Riding Curves, Vivi Yip Art Room, Jakarta, Indonesia |
Group Exhibitions
| | |
| --- | --- |
| 2018 | Moniker Art Fair London, Vinyl On Vinyl, Manila, Philippines |
| 2017 | Art Stage Jakarta, Vinyl on Vinyl, Jakarta, Indonesia |
|   | Art Jakarta, Element Art Space, Jakarta, Indonesia |
|   | RYB - Back to Basics, Element Art Space, Singapore |
|   | Art Sampoerna 2017, Jakarta, Indonesia |
|   | Art Philippines - Arkiv x Volkswagen 2017, Manila, Philippines |
|   | Art Central Hong Kong, Vinyl on Vinyl Gallery, Manila, Philippines |
| 2016 | Art of Speed Malaysia, Selangor, Malaysia |
|   | Art Fair Philippines, Vinyl On Vinyl Gallery, Manila, Philippines |
|   | Moniker Art Fair London, Vinyl On Vinyl, Manila, Philippines |
| 2015 | Art Sneakers-A Fundraising for Jakarta Biennale & Jogja Biennale, ISA Art Advisory, Jakarta, Indonesia |
|   | Bazaar Art Jakarta, CI Art, Jakarta, Indonesia |
|   | Art Paris Art Fair, Element Art Space, Paris, France |
|   | Art Fair Philippines, Vinyl On Vinyl Gallery, Manila |
|   | Stripe, Vinyl On Vinyl Gallery, Manila |
| 2014 | Art Brussels, Gallery Lacroix, Paris |
|   | Fun Art Asia: Deconstruction: In Search Of Truth, The Gallery Goodman Arts, Singapore |
|   | In Collaboration with Umah Seni, Glitch Gallery, Jakarta, Indonesia |
| 2013 | Sothebys 2013: Modern and Contemporary Southeast Asian Paintings, Hong Kong |
|   | Bazaar Art Jakarta, Vivi Yip Art Room, Jakarta, Indonesia |
|   | Sydney Contemporary Art 2013, Sydney, Australia |
|   | Art 'O' Clock 2013 Paris, La Defense, France |
|   | Sovereign Art Asian Prize 2013-2014, Hong Kong |
|   | Genoma Contemporary Art, Italy |
| 2012 | Neopopstreetpunk 4, Gallery M Squared, Houston, USA |
|   | Pangeaseed, Roqlarue Gallery, Spoke Art Gallery, Lebasse Project Gallery, USA |
|   | Bazaar Art Jakarta, Vivi Yip Art Room, Jakarta, Indonesia |
|   | Art On The Move: Auction, Oceanic Awareness Collaboration, White Walls Gallery, San Fransisco, USA |
|   | Underpaid, Group Show, Hold Up Art Gallery, Los Angeles, USA |
| 2011 | Beyondeden, Art Fair, Los Angeles, USA |
|   | Genoma Contemporary, Venice Biennale, Venice, Italy |
|   | Pressed, A Silkscreen exploration, Hold Up Art Gallery, Los Angeles, USA |
|   | Interstellar: Artist Project by The Howler Terror Club, Goods Dept, Jakarta, Indonesia |
|   | Dreweatts' Urban Contemporary, Haven House Children's Hospic Auction, London, UK |
|   | Oceanic Awareness Collaboration's First Annual 2011, Andi Campognone Projects, Los Angeles, USA |
| 2010 | Boarded Up, The Art Of Surf and Skate, Gallery M Squared, Houston, USA |
|   | Multiversal Group Art Show, Art Basel Miami, Miami, USA |
|   | Art Strikes Back, Art Asylum Boston, Fourth Wall Gallery, Boston, USA |