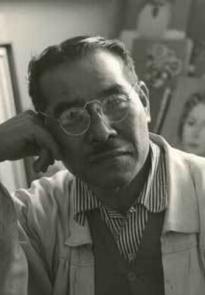 Artist Profile
orn in Fukuoka, Japan, Zenzaburo Kojima is a highly influential figure in the Japanese modern art sphere. A self-taught artist with no formal university art education, Kojima's artistic techniques derive from his various experimentation and observation of other Japanese artists such as Yatoro Noguchi and Takeshi Hayashi. In 1925, he travelled to Paris and around Europe, visiting renowned art museums such as the Louvre in Paris and the Prado in Spain
The catalogue for Kojima's Centennial Memorial exhibition points out that there were fewer than 30 nudes in his total oeuvre, far fewer than the number of scenic paintings, yet the nudes, because of their relative rarity and their sharply distinctive style, have become Kojima's most representative works, works that symbolize his most crucial stylistic breakthrough, produced mainly in the 1920s and early 1930s.
Amongst Kojima's work, Nude series is indeed a significant piece of representation when we look at his developments and transitions artistically. Most of his early works have already become part of museum collections, and this makes Nude Sleeping on Back even more precious and rare. 
In Nude Sleeping on Back, Kojima has adopted an overlooking angle with a rich and gaudy palette as well as decorative bedding. In this way, it was easy to not have more depth in the flat space. Moreover, by painting the bright colours and complex drapery, he has managed to bring the elements to his own work from the highly decorative Rinpa school of Japanese paintings and find similarities in the artworks of Ukiyo-e. Kojima has brought Rimpa and Nanga styles into his own oils, trying to liberate the expressiveness, decorativeness and flatness of colors. The result is a new, idiosyncratic style that he coined "Neo-Japanism".
After 1934, Kojima stopped Nude series and turned to another theme of Japanese landscapes and still lifes. However, he still continued to explore the unique qualities he has previously found in both Eastern and Western art. His work then has developed into more flatness, simplicity, and decorative representations, using modern ways of paintings to interpret Japanese traditional aesthetics.