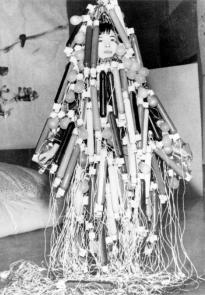 Artist Profile
Tanaka was born in 1932 in Osaka, where she received extensive training in art and aesthetics. Serving as a crucial location to the establishment of avant garde Japanese art, Osaka was also the site where Gutai was first founded by Yoshihara Jiro in 1955, and Tanaka's proximity to Gutai and other artistic movements of the time no doubt influenced the then young artist's drive and development.
Tanaka joined the Gutai group in 1955. Using about 200 paint-daubed light bulbs of nine different hues, she created an Electric Dress, which attracted a great deal of attention. From that starting point she developed a body of schematic-like paintings of lines and circles that gave her artwork a distinctive presence within the group. 
Tanaka's works were featured in numerous expositions in Japan and abroad, including at the Kyoto National Museum of Modern Art, the Nagoya Gallery HAM, the New York Grey Art Gallery and Paula Cooper Gallery as well as at the Innsbruck Galerie im Taxispalais. The Grey Art Gallery focuses on Tanaka's Gutai period and also includes a video and documentation of the movement. This gallery includes a reconstructed version of Electric Dress. Here, the work lights up periodically, buzzing with life like an alien creature. In 2005, the University of British Columbia's Morris and Helen Belkin Art Gallery in Vancouver mounted a major exhibition of Tanaka's work entitled "Electrifying art : Atsuko Tanaka, 1954-1968". Electric Dress and other works were on display at the 2007 documenta 12 in Kassel.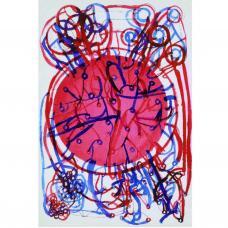 ink and watercolour on paper, laid on canvas