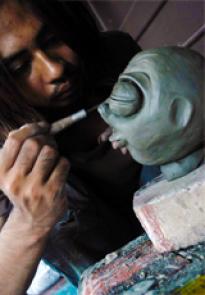 Artist Profile
Oky Rey Montha (Kyre) is one of the important young artists in Indonesia. He was born on 3 January 1986 in Kabanjahe, Tanah Karo, North Sumatra. His work influenced many of the things that smelled of imagination, unreal things, tales, literature & spiritual. 
His colorful and chaotic works are expressive and bitterly ironic and hide, behind an apparent normality, numerous dark sides and bitter memories of Montha's existence. Since his early childhood he had to fend for himself, his survival, education and family. Montha often uses comics to immortalize episodes of his difficult life, which is at the same time an inexhaustible source of ideas and inspirations. The facial expressions of his dynamic protagonists are close to caricatures and emphasize the personality and emotionality of his subjects.
This pop surrealist artist can always depart from the terms of the spiritual things from his mind and his environment. This artist combines music, art and literature for his work. This artist is also interested in video art, installations and sculptures. Kyre has basic drawing strongly on his work and the fact, he is one of the Pirates in the Red Sea. He will circumnavigate the world with his works.
Solo Exhibitions
| | | |
| --- | --- | --- |
| 2012 |   | KYRESOPHIA, Primo Marella Gallery, Milan, Italy  |
| 2011 |   | KYRELOGY, Galeri Canna, Jakarta, Indonesia |
| 2010 |   | EVORAH ( Evil Of Rabbit Head ), Tujuh Bintang Art Space, Yogyakarta,Indonesia |
Group Exhibitions
| | | |
| --- | --- | --- |
| 2011 |   | In Flux / Jogja Gallery / Yogyakarta |
|   |   | JATIM BIENALLE / GO Art Space / Surabaya |
|   |   | Art Stage / Primo Marella  Gallery / Singapore |
|   |   | Arte Fierra / Primo Marella Gallery / Bologna, Italy |
|   |   | The Alleys of City Named Jogja / Primo Marella Gallery / Milan, Italy |
|   |   | Scoop Basel / Basel / Swiss |
|   |   | Bazzar Art / Ritz Charlton / Jakarta |
|   |   | ART JOG 11 / Taman Budaya / Yogyakarta |
|   |   | ART Care / Taman Budaya / Yogyakarta |
| 2010 |   | Penyelenggara sekaligus artist TK Festival 3 Exhibition / cafebale / Yogyakarta |
|   |   | Drawing Lover Exhibition / UPT Gallery ISI Yogyakarta / Yogyakarta |
|   |   | ART JOG 10 / Jogja Art Fair / Taman Budaya / Yogyakarta |
|   |   | Bazzar Art Award Exhibition / Ritz Charlton / Jakarta |
|   |   | BazzarArt exhibition / Vanessa Art House / Jakarta |
|   |   | One Gallery 10 Anniversary Exhibition / One Gallery / Jakarta |
|   |   | Crossing and Bluring the Boundaries / Galeri Nasional / Jakarta |
|   |   | Disambar Desember / Galeri ISI / Yogyakarta |
| 2009 |   | Pameran Drawing in Sneakers / uk. Petra Surabaya |
|   |   | Mini Art Exhibition / Upi / Bandung |
|   |   | Exhibition Room / Jogja Expo Centre / Yogyakarta |
|   |   | Penyelenggara sekaligus artist TK Festival / Benteng Vredeburg / Yogyakarta |
|   |   | TK Festival / Dago Tea House / Bandung |
|   |   | Jogja Art Fair ( JAF )#2 / with TK Syndicate / Taman Budaya / Yogyakarta |
|   |   | Expo Sign / Pameran 25 tahun ISI Jogja / Jogja Expo Centre / Yogyakarta |
|   |   | Menyelenggarakan Diskom Drawing Foundation Exhibition / ISI Jogja / Yogyakarta        |
|   |   | Diskomplet exhibition / Bentara Budaya / Yogyakarta |
|   |   | See the sound exhibition / with TK Syndicate / Ars longa Gallery / Yogyakarta |
|   |   | ruang rupa café bale exhibition / Biennale x jogja support / cafébale /  Yogyakarta  |
| 2008 |   | Pameran Seni Lukis Selekda BPSMI , Sanata Dharma / Yogyakarta & Jambi |
|   |   | Pameran Rumah Seribu Kota, Jogja National Museum / Yogyakarta |
|   |   | Penyelenggara sekaligus artis Satan Festival, Rumah Eyank Gallerie / Yogyakarta |
|   |   | Diskomfest 3 / Jogja National Museum / yogyakarta |
|   |   | Pameran Bersama Mahasiwa Katholik ISI Jogja, Kaliurang / Yogyakarta |
|   |   | Pameran Seniku Tak Berhenti Lama / Taman Budaya / Yogyakarta  |
| 2007 |   | Pameran bersama keluarga mahasiswa katholik ISI jogja, Kumetiran Kidul / Yogyakarta  |
|   |   | Pameran Typographie Fontastic, Karta Pustaka / Yogyakarta |
|   |   | Pameran Unity Of Art, Taman Budaya / Yogyakarta |
|   |   | Pameran T-Shirt Illustration, LIP / Yogyakarta |