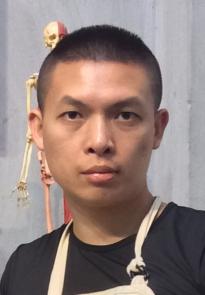 Artist Profile
"Pasu", was born in Macau, China, graduated from Sichuan Fine Arts Institute, major in oil painting,
In 2009, he returned Macau .
In 2013, founded "Macau of Cai Feng Pastel Society" with the aim to develop art and conduct research on new media.
In 2015-2016, he visited China and Taiwan, to promote Macau's art and the city through the promotion of Macau's pastel art.
In 2016, he was appointed as the image representative of promotional materials of the National College of Pastel Art Collection.
2015  "On stage - 2015 Summer Art Exhibition",10 Fantasia, Macau
          <2015 Chi Kei Ho -Acrylic Painting Exhibition>, Fance Café in Taipa,Macau.
2014  "Unique Memories - Three Abstract Art Exhibitions", 10 Fantasia,Macau
          "Future Gallery Opening & The Second Student Art Exhibition, Future Gallery, Macau
2012  "Xiandulila – The First Student Art Exhibition", Corner Studio, Macau
Group Exhibitions
2016  "The 1st China (Suzhou) Pastel Art Exhibition - Macau Representative", Suzhou, China
2016  "Poly Macau Hotel Art Fair", Regency Hotel, Macau
2015  "Macau Artist Society Exhibition", UNESCO Centre of Macau
2012  "Discovery – A Creative Journey Through The Works of 20 Macau Contemporary Artists", MGM Macau, Macau
2011  "Collective Exhibition of Macau Artists" by Macau Cultural Affairs Bureau, the Old Court, Macau, China
          "Macau Scenery - AFA 4th Anniversary Exhibition", Macau
          "The 16th MIF (Macao International Trade and Investment Fair)", Macau
2010  "Return" Oil Painting Exhibition, Ox Warehouse, Macau
          "Macau For Haiti+Qinghai", Macau Tower, Macau
          "The 15th MIF (Macao International Trade and Investment Fair)", Macau
2008  "365 days" Oil Painting Exhibition, Sichuan Fine Art Institute, China