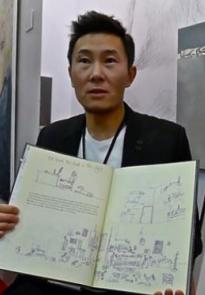 Artist Profile
Zorikto Dorzhiev was born in 1976 in Ulan Ude (Siberia). From 1991 to 1996 he studied in Bury at Republican College of Arts, Ulan-Ude. From 1996 to 2002 he studied in Krasnoyarsk State Institute of Arts, painting department, in prof. A. M. Znak studio. From 2003 to 2005 he developed himself in The Russian Academy of Arts (the Urals, Siberia and the Far East branch), studio of A. P. Levitin. Zorikto's artworks are kept in private collections in Russia, the USA, Germany and Australia.
Zorikto's artworks are held in the State Museum of Oriental Arts, Moscow; the Vladimir Sukachev Art Museum, Irkutsk; the Regional Art Museum, Tomsk; The Tsyrenzhal Sampliov Regional Art Museum, Ulan-Ude and private collections in Russia, the USA, Germany, Australia, France, Belgium, Great Britain, Taiwan and Mongolia.
Zorikto's artwork "DUEL II" (2007, 78x105 cm, oil on canvas) is now a collection of president Putin.
The Former President of European Comission JOSE MANUEL BARROSO has two originals: sculpture and graphic "DREAMER".
In December 2014, UMA THURMAN became the owner of Zorikto's graphic "PARTING" 2014, 80x56 cm,pencil on paper.
Solo Exhibitions
| | | |
| --- | --- | --- |
| 2012 |   | <Zorikbook>. One-man show at the Republican Art Museum.  Ulan-Ude, Russia |
|   |   | <Zorikbook> Exhibition-presentation of Zorikto Dorzhiev's book at the Museum of Regional Studies.  Irkutsk, Russia |
|   |   | <Zorikbook> Exhibition-presentation of Zorikto Dorzhiev's book at the Central House of Artist. Moscow, Russia |
| 2011 |   | Steppe Story. Solo-show at Hay Hill Gallery, London |
|   |   | Steppe Story. Solo-show at Neumünster Abbey. Luxemburg |
| 2010 |   | A Year in the Life of A Painter. Solo show at the gallery "DIAS"(Irkutsk, Russia) |
|   |   | A Year in the Life of A Painter. Solo show at the Buryatia Repablican Art Museum |
| 2009 |   | Steppe Story. Solo-show at the Russian State Museum, St.Petersburg |
|   |   | Steppe Story. Solo-show at Tibet House, New York, USA |
| 2008 |   | Solo show at the Council of Europe in Strasbourg, Luxemburg and Brussels |
|   |   | Steppe Story. Solo-show at the Regional Art Museum, Tomsk |
| 2007 |   | Steppe Story. Solo-show at the Vladimir Sukachev Art Museum, Irkutsk |
|   |   | Solo show at the Council of Europe in Strasbourg and Brussels |
| 2004 |   | Solo show at the Museum of the Buryat History, Ulan-Ude, Russia |
Group Exhibitions
| | | |
| --- | --- | --- |
| 2012 |   | Art Fair Tokyo.  Tokyo, Japan |
| 2010 |   | The Central House of Artists, Hall 5, Khankhalaev Gallery. |
| 2009 |   | Red Dot Miami |
| 2008 |   | XXIX Olympic games, Beijing |
|   |   | Moscow World Fine Art Fair |
|   |   | Art Expo, New York |
| 2007 |   | Art Manege, Moscow |
|   |   | Moscow World Fine Art Fair |
|   |   | Art Taibei, Taiwan |
|   |   | Art Expo, New York |
| 2006 |   | Art Miami, USA |
|   |   | Art Manege, Moscow |
|   |   | Mongolian Embassy in Moscow. 12.2006 |
|   |   | Central House of Artists, Khankhalaev Gallery, Moscow |
|   |   | Beverly Hills Classic: Antiques & Fine Art & Jewelry Show, LA |
|   |   | Art Taipei, Taiwan |
|   |   | Art Miami, USA |
| 2005 |   | Art Manege, Moscow |